ABOUT JAKOB MELANDER
– Of music and literature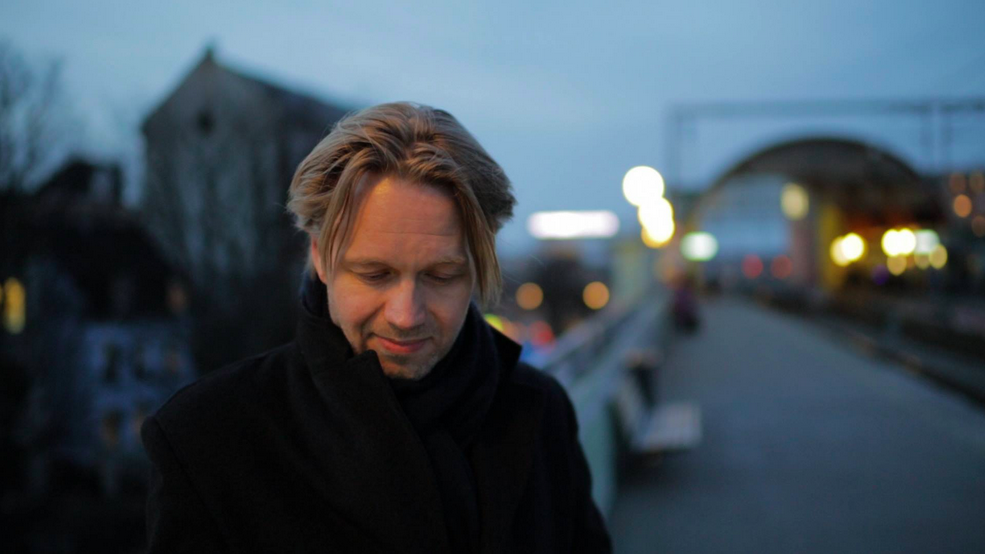 Photo: Martin Reinhard
I was born in 1965 in Copenhagen, Denmark and have to younger siblings. As a child, I would watch my father, who's a classical archeologist, sitting at his desk every night reading and writing. And even back then, I can remember thinking: When I grow up, I want to do that, too! Maybe not archeology per se, but the part that contained having a distant world in my head and putting it down in writing.
My mother wrote children's books and directed short films, and when I'd learned to read and was able to disappear into the wonderful world of books on my own, I was sold.
Music
But during High School music was added to the mix. Music had and still has a profound effect on me. Music is a guerilla attack that hits you, when you least expect it. Music reaches you behind – or before – language, it goes straight to the central nervous system. And because of this it is impossible to avoid or shield oneself from it. You are completely naked, laid open to music. Both good and bad.
I believe we all know the feeling – or know somebody who does – that a certain song, a certain piece of music or genre can be impossible to listen to. Either because the music in itself is bad or because we associate it with something unpleasant. Something we've read or experienced ourselves. That is, music can have a profoundly negative influence as well.
But on the other hand – when it's good – music can give an almost physical high. I've read somewhere that recent research has shown, that some people react to music the same way they react to cocaine. I find this to be true. In many ways, therefore, it is my own experience or reaction to music I write about, when the reader first meets my protagonist Lars Winkler in The House that Jack Built: "John Paul Jones's falling bass line was a gloomy backdrop for Jimmy Page's spine-tingling guitar work. The Fender bass and Telecaster guitar resounded in his head in that indescribably fantastic way that made music better than drugs and almost as good as sex."
Music has direct access.
And the kind of music that was new and exciting when I was young was punk and new wave. I was a part of the Copenhagen punk scene and played bass guitar and violin in a band called Agony. Our first gig was at the opening of a two-day punk festival in Copenhagen. I was 16, we played three songs and (nationally known and respected literature and music critic) Poul Borum went to the stage to get down the name of our band. This was the big time.
Records with lasting influence on me – listed as I discovered them:
The Doors: "Strange Days"
Stravinskij: "The Fire Bird"
Pink Floyd: "The Piper at the Gates of Dawn"
Joy Division: "Closer"
Birthday Party: "Prayers on Fire"
Sort Sol: "Dagger and Guitar"
David Bowie: "Station to Station", "Heroes"
Patti Smith: "Wave"
The Rolling Stones: "Beggar's Banquet" and "Let it Bleed"
Led Zeppelin: "Led Zeppelin I"
Jimi Hendrix:  "Cry of Love"
The Cult: "Love"
Massive Attack: "Protection"
Mahler: 2. & 3. symphonies
Mercan Dede: "Seyahatname"
Did you know …
That I've played the violin?
That I parttook in the archeological excavations of Chalkis in Greece in the summer of 1999 and 2000?
That I've taken part in theatre festivals in Cairo and Istanbul for Copenhagen's Betty Nansen Theatre?
Redlands
In the middle of the 1980'es I changed from bass to electric guitar, and musically i changed direction, too. I began playing more straight and 1960'es-influenced rock music, inspired by (among others) U2, The Cult and Led Zeppelin. With four friends I started the band Redlands, and for the rest of that decade and into the early 1990'es, we toured all over Denmark and in West Germany. Redlands recorded one side of a triple live lp, presenting six unsigned Danish bands, Secrets III, Live. In 1991 we played the main stage of one of Northern Europe's largest music festivals, Roskilde Festvial, and this gig was probably the high point of our career.
Education
Because Redlands never got a proper record deal, and we disbanded in 1992 in a haze of frustration and broken dreams. I started a couple of other projects, Venus in Furs and a David Bowie tribute band, but my heart wasn't in it anymore, and in 1996 I began my studies in Comparative Literature at the University of Copenhagen. I always knew, that if I couldn't make it in music, I would end up in university – a return to the academia of my father and the heritage of my mother.
Six years later, with a MA in Comparative Literature and studies in Berlin, Germany, under my belt as well as an education as children's playwright, writing was a no-brainer. But first I worked as a dramturgh and assistant dramaturgh at various Copenhagen-based theatres as well as with webshops and general communication.
 Pop-culture, contract and abroad
I've always loved popular culture, as opposed to high-culture: That is, Science Fiction, comic books, Fantasy, Horror, Rock'n Roll. And of course, crime fiction. But I went through quite a few sketches of Science Fiction-novels and some Fantasy, before the story that became The House that Jack Build suddenly presented itself to me. It took me about a year to plot and write the first draft of that book. And from that point the ball began to roll.
Two weeks after having submitted the manuscript to what would become my Danish publisher, Rosinante, in December 2011, they called me and asked for a meeting. And the following week we started to negotiate a contract.
The rights to The House that Jack Built and its sequel, The Scream of the Butterfly, were sold to Germany, Holland, Russia, Italy and Norway before The House that Jack Built was even published in Denmark. Later the rights were sold to the Czech Republic and Slovakia, and in Canada the well-respected publisher House of Anansi bought World English rights.
Music and literature
So in this way my life has changed back and forth between music and literature. As mentioned above, music has a strong influence. But its high is very short, lasting only a couple of seconds at most. A gig or concert can have a string or series of such highs or moments, but each of them will by nature be short-lived.
Writing, in turn, is different. That high is nowhere near as strong as that of music. In many ways it's better likened to composing: Sitting with my guitar, trying to find the chords, voicings and tunes, I hear in my head. This high, in turn, is longer, and the joy and satisfaction reaches far beyond the single, second-long kick of the guitar-player.
Inspiration
The House that Jack Built was inspired by an article in a Danish newspaper on an American serial killer. There's nothing of the original or true crime-story left in the book, but that article became an inspiration, a point of departure for my imagination, that I could transform and build from.
The Scream of the Butterfly grew from a mental image I'd carried in my head while writing The House that Jack Built: A young prostitute next to the body of the mayor of Copenhagen in a large, dark appartement.  Why was she sitting there? What was she scared of? How did the two of them know each other? These were the question I posed myself, and the answers I came up with bred other questions that needed answers. And then the story was already well under way.
Three books that have made a lasting impression on me:
The Black Book, by Orhan Pamuk
The Norse Sagas, and
Tales of Mystery and Imagination by Edgar Allan Poe.
And maybe because of this, it is important to me that music has a place in my novels, too. I think in rythm and timbre when I form the sentences. I work them through, over and over again, moving words back and forth trying to come up with the sentence with the perfect sound, that is just so – much like a song I hear in my head. Finally, I read everything aloud to myself in order to feel the music in the language – both mentally and physically.
My background in music has helped me in another way, too: It has been an invaluable teacher in the sense of structure and whole. Because analytical knowledge cannot stand on its own in creative work. To determine if a text or novel is whole and finished, it is vitally important to be able to feel it too.
Once in a while, though, I miss to play the guitar. It is good, then, I am sometimes able to combine the two halves in me, music and literature, as I did in June 2014 at the Italian Le Corde dell'Anima-festival in Cremona, the city where Stradivarius and so many other famous luthiers have lived and worked. The festival has the interchanging nature of music and literature as its theme, and this year I was invited to participate. I performed with the Italian punk-blues duo Bud Spencer's Blues Explosion and was interviewed on stage in an old palazzo on the Italian translation of The House that Jack Built, Nei Tuoi Occhi. Bud Spencer's Blues Explosion and I played a Zepplinesque version of Memphis Minnie's When the Levee Breaks, and an instrumental version of The Rolling Stone's No Expectations.